Archive: October 2009
Casey Mulligan Swings and Misses
University of Chicago economist Casey Mulligan has a post today at the New York Times Economix blog where he seems to argue that the current push for statutory paid sick days in the United States is ignoring the role of economic incentives. According to Mulligan, workers in countries with generous paid sick day policies stay home because of "incentives, and not the flu".
I don't think Mulligan has been following the U.S. debate on paid sick days very closely. The U.S. debate is very serious about incentives. The current system --which does not require employers to provide paid sick days and leaves upwards of 50 million workers without paid sick days-- gives strong incentives to workers to go to work sick, lowering productivity and potentially spreading illness.
Of course, offering paid sick days also gives workers incentives to take time off when they are not sick. But, there is nothing in Mulligan's post that says where we should set the optimal level. He doesn't even make a case that the most generous systems in Europe are too generous, just that they lead to more sickness absences in some cases. For all we know, after we factor in the cost of contagious diseases, the most generous European systems might still be too stingy.
To make his point about the effect of incentives, Mulligan features the following graph from a recent IMF paper: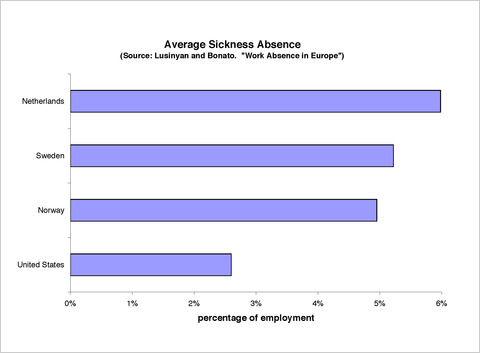 Mulligan, however, has made very selective use of the original IMF graph: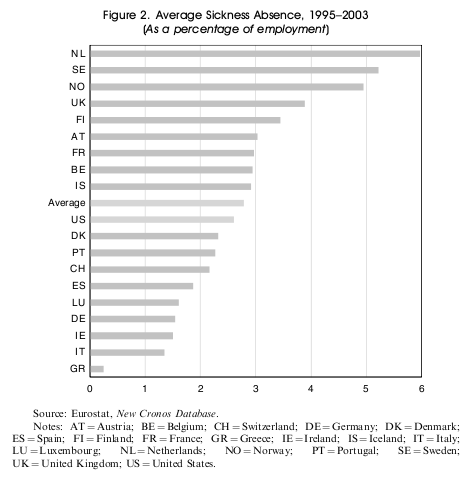 In the original, Denmark, Germany, and seven other countries with more generous statutory paid sick days policies all have lower sickness absence rates than the United States. A really interesting question is: how is it that these countries are able to provide both guaranteed paid sick days and lower sickness absence rates? (And why didn't Mulligan include these countries in his graph?)
UPDATE 11/10/09: Salon's Andrew Leonard ("How The World Works") wrote a nice piece linking to this post. So did Nick Baumann at Mother Jones. Casey Mulligan responds to the concerns raised here on his University of Chicago blog, but makes no mention of any of these issues at the New York Times' Economix blog, where his original post appeared.
Plutonomy Blogging at 32,000 Feet
The plane I'm on right now has free WiFi, so I can't resist a quick post with a link to the Citigroup memo on the "Plutonomy", featured in Michael Moore's new movie "Capitalism: A Love Story".
The report, from October 2005, is remarkable for its open exuberance about high and rising inequality in the United States. At least it gets the facts right:
...the world is dividing into two blocs - the plutonomies, where economic growth is powered by and largely consumed by the wealthy few, and the rest. Plutonomies have occurred before in sixteenth century Spain, in seventeenth century Holland, the Gilded Age and the Roaring Twenties in the U.S.
...the top 1% of households in the U.S., (about 1 million households) accounted for about 20% of overall U.S. income in 2000, slightly smaller than the share of income of the bottom 60% of households put together. That's about 1 million households compared with 60 million households, both with similar slices of the income pie! ...the top 1% of households also account for 33% of net worth, greater than the bottom 90% of households put together. It gets better (or worse, depending on your political stripe) - the top 1% of households account for 40% of financial net worth, more than the bottom 95% of households put together. This is data for 2000... Since 2000 was the peak year in equities, and the top 1% of households have a lot more equities in their net worth than the rest of the population who tend to have more real estate, these data might exaggerate the U.S. plutonomy a wee bit.
Citigroup even gets a key point that eludes most people, whose time horizon is heavily skewed toward the last 30 years:
Was the U.S. always a plutonomy - powered by the wealthy, who aggrandized larger chunks of the economy to themselves? Not really.
And the text follows with a good discussion of how economic inequality was on the decline in the United States for most of the 20th century.
The Citigroup analysts, however, did get one thing spectacularly wrong. They argued that talk of economic stability and financial fragility misunderstood the dynamics of the new plutonomy.
"Most 'Global Imbalances' (high current account deficits and low savings rates, high consumer debt levels in the Anglo-Saxon world, etc) that continue to (unprofitably) preoccupy the world's intelligentsia look a lot less threatening when examined through the prism of plutonomy."
Oops!
FDR's "Second Bill of Rights"
Last night, I finally saw Michael Moore's latest documentary "Capitalism: A Love Story", which is definitely his most mature and accessible film so far.
There was a lot to like about the movie, but I especially appreciated his retelling of American history since the Great Depression. One particularly nice segment focused on Franklin D. Roosevelt's 1944 State of the Union Address, where FDR spelled out a "Second Bill of Rights":
In our day these economic truths have become accepted as self-evident. We have accepted, so to speak, a second Bill of Rights under which a new basis of security and prosperity can be established for all regardless of station, race, or creed.
Among these are:
The right to a useful and remunerative job in the industries or shops or farms or mines of the Nation;
The right to earn enough to provide adequate food and clothing and recreation;
The right of every farmer to raise and sell his products at a return which will give him and his family a decent living;
The right of every businessman, large and small, to trade in an atmosphere of freedom from unfair competition and domination by monopolies at home or abroad;
The right of every family to a decent home;
The right to adequate medical care and the opportunity to achieve and enjoy good health;
The right to adequate protection from the economic fears of old age, sickness, accident, and unemployment;
The right to a good education.
All of these rights spell security. And after this war is won we must be prepared to move forward, in the implementation of these rights, to new goals of human happiness and well-being.
Here's an audio excerpt from the speech:
And you can even buy a t-shirt with the "Second Bill of Rights" summarized on the front: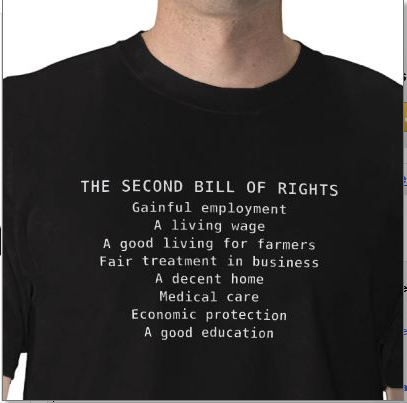 I Despair of the Economics Profession
A friend emailed me a copy of this pdf document, prepared by Geoff Hodgson, which contains excerpts from a web page called Economics Job Market Rumors. The site, which looks to serve as a bulletin board for graduate students and untenured economics professors, recently ran a long thread with reactions to the latest Nobel prize in economics.
A large share of posters were critical of the committee's decision to award the prize to Oliver Williamson and, especially critical, as you can see in Hodgson's document or at the site itself, of the decision to give the prize to Elinor Ostrom.
Some of the criticisms are based on Ostrom's discipline (she is a political scientist, not an economist). Some are based on her relative obscurity within the economics profession (few on the list had ever even heard of her, fewer had actually read anything by her). But, an alarming share of the criticisms focus on Ostrom's gender.
"Well, they had to give it to a woman at some point. Why not just throw a dart at a board."
"This girl seems to be a political scientist. I dont think she has published original research in any major economics journal."
"...last time a woman tried to go to the moon, the Challenger exploded 73 seconds after the launch."
The thread includes sensible comments from serious people, but the quantity and quality of sexist comments says terrible things about the future of academic economics.
Bring the troops home from Afghanistan
After 14 months in Afghanistan, a soldier met at his front door by his two dogs.
Who says we miss them any less?
HT to BH.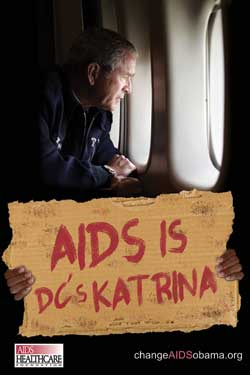 I saw a great advertisement at a bus stop in DC today: the iconic photograph of a distressed George W. Bush looking down on Katrina from the window of Air Force One, with a hand-made sign immediately below declaring that "AIDS is DC's Katrina".
The bus shelter ads and related TV spots in the DC area are sponsored by the AIDS Healthcare Foundation. According to the most recent data, the rate of HIV in DC is now over three percent, and possibly as high as five percent.
The AIDS Healthcare Foundation is calling on President Obama and the federal Center for Disease Control and Prevention (CDC) to do more to fight the AIDS epidemic in DC and in the rest of the country. More details at changeAIDSobama.org.
If you're going to be in New York City on October 29, think about stopping by the Domestic Workers United (DWU) Donor Campaign Celebration. DWU is an organization of nannies, housekeepers, and elderly caregivers in New York working for respect and fair labor standards for domestic workers. In less than a decade, the DWU has built a membership of over 2,300 workers and won almost a half a million dollars in unpaid wages for domestic workers.
DWU has recently launched a campaign to recruit "donor members" to help sustain their work through these tough economic times. The donor campaign celebration will be held on October 29 from 6:30pm to 9:30pm at the offices of SEIU Local 32BJ, 101 Avenue of the Americas, 22nd Floor. (A flyer with full details here.) You can use the pledge form if you'd like to help, but can't make it on the day.
I spent a few days last week in Portugal giving a couple of talks on economic inequality in the United States. The main event was a screening of the outstanding documentary film "Waging a Living," which looks at the lives of four low-wage workers in the United States in 2004. After the film, French economist and statistician Thomas Coutrot and I participated in a public discussion.
I also gave a talk at the Economics Faculty of the University of Coimbra on why economic inequality has been increasing so much in the United States since the end of the 1970s. The text of my talk is here.
UPDATE 05/08/2010: A version of the talk also appeared in the December 2009 edition of the real-world economics review.